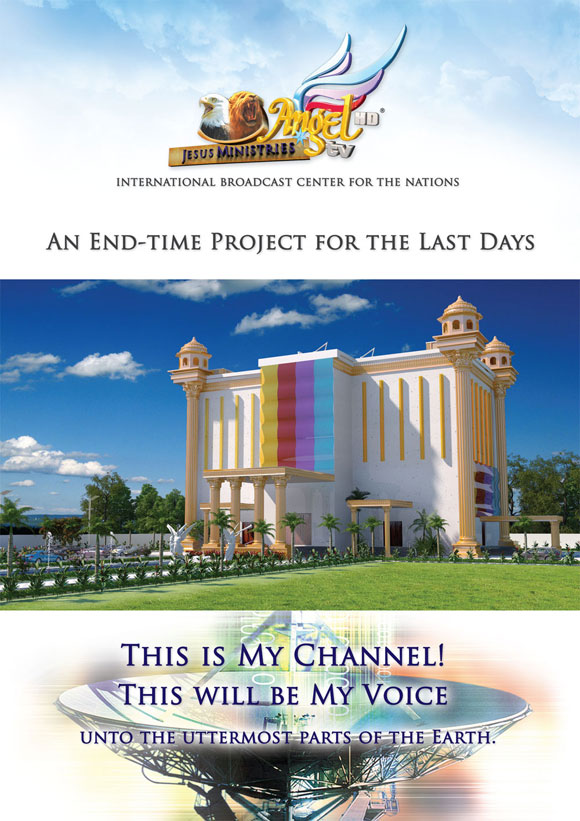 Build Me A Place for My Throne To Be Established
Throughout my life, I have experienced certain awesome moments of spiritual destiny when the Lord God spoke to me in unmistakable ways, giving clear directives for His purposes to be established. Some of these moments are:
November 1983 – God spoke to me to go evangelize Tibet and Nepal to prepare His Bride for His coming.
January 1991 – God spoke to go to the nations to be His prophetic voice and prepare His worldwide Body for His coming.
September 1997 – God spoke to establish a television ministry
August 2000 – God spoke to establish a 24/7 television channel to reach the uttermost parts of the earth.
December 2005 – God's channel, Angel TV, was launched.
2008 – 2013 – Twelve TV channels were established – from one end of the earth to another – in eight different languages.
December 2015 – God spoke to build Him a place from which to broadcast His Voice and for the display of His Glory - Jeremiah 25:30.
Though at times quite hesitant, yet I stepped into my destiny and have laboured to fulfil God's purposes and call. Like the prophet Moses, my hesitance was mostly because of my inadequacies and lack of knowledge, understanding and training. But our good God has been gracious and merciful to promise: "I will go with you on your journeys."
Of all the tasks the Lord has given me, I was most hesitant to fulfil the creation of the television ministry. And yet, the Lord, like a wise Master Broadcast Technologist, graciously and patiently taught me the nuts and bolts of everything I needed to know. It is HE who established the twelve channels. I was just His servant doing the Master's bidding.
"Build Me A Place where My Feet can rest and I can sit on My Throne!"
On March 3, 2007, while on a 40-day fast, I saw a glorious and magnificent Angel, flying majestically, stand in mid-air near my room. He had a beautiful scroll in his hands.
When he unfurled the scroll, I saw the words "ANGEL TV" written at the top. On the scroll I saw a beautiful master-plan of a building. I then saw the words, "You must build this place for God's glory to come and abide in it." The Angel further said, "Look at this building plan carefully and keep it in your heart. When the Father's time comes to build it, I will come to visit you again."
Years passed. Angel TV functioned out of a small facility in Chennai, India from 2004 till now. Disaster struck in November 2015: Chennai was flooded by torrential rains that lasted for several weeks!
Many precious partners called us to enquire how we and the Angel TV studio were doing. I was ministering in Vietnam when the rains were lashing angrily at Chennai. So I called our studio to enquire about the situation there. My staff sent me pictures and a report of the situation.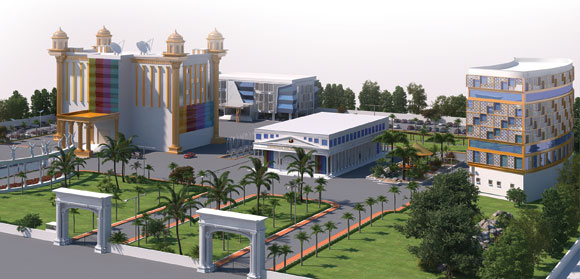 I was shocked when I saw the pictures. Six inches of water flooded our studio and caused permanent damage to the main studio's chroma key wall. An editing room and the UPS power room were flooded with two feet of water. Our technicians worked around the clock for two months pumping the water out.
I was heartbroken by this report. Furthermore, it was the grace of God that protected the UPS power room from exploding or catching fire due to contact with water.
I bowed my head in Vientiane, Laos and asked, "What shall I do now, Lord?" The Lord's response was a defining moment of destiny for me. He replied, "Move out! The time has now come for you to buy a piece of land and build a permanent building."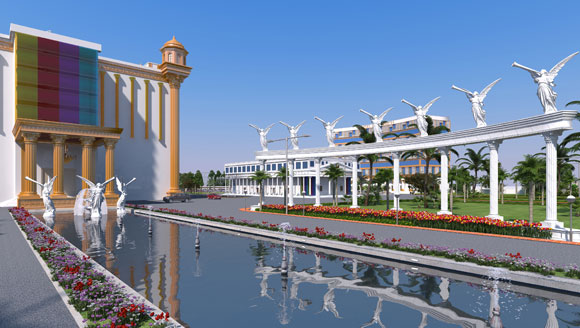 Excited by the mandate, I called my staff and instructed them to search out a suitable piece of land. From Vietnam I travelled to Myanmar for ministry. While praying about this project, I suddenly remembered the vision of 2007 when the Angel told me that when the time comes to build the building, he would come again. So how could I now embark on this project without the visit from this angel again? I put on the brakes and waited.
On the morning of December 4, 2015, during a ministry trip in Myanmar, I felt a presence on my right side. When I opened my eyes, I was pleasantly surprised to see an Angel. His first question was, "Do you recognize me?" Seeing his smiling face I said, "Sure I do," I replied. "You are the Angel who brought me the plans for Angel TV's building in 2007." He smiled and said, "I have been sent by the Father to tell you the building plan has been approved. You will be given the resources and help to complete it." I was elated by this and set to work on the project right away.
"Build Me A Place where the Last Days' Army of the Lord is prepared for the End-Times!"
The Jesus Ministries Headquarters will also include a state-of-the-art Convention & Prophetic Training Centre. People from all over the world will come to learn the ways of God, the deeper mysteries of God, and to see the awesome power and glory of God demonstrated.
Only now do I understand a vision I vividly saw in November of 1983. I saw myself in a prayer meeting. Suddenly, I saw the Saint Sadhu Sundar Singh come and stand outside the prayer hall. I ran towards him to get his blessing. He bowed to bless me, then lifted me up and made me sit on his shoulders. When I looked down, I was shocked to see that I was now seated on the shoulders of the Saint John the Baptist.
Still carrying me on his shoulders, John the Baptist began to walk into a dark forest. A ball of light went before us lighting the way. After walking for a while, he stopped in a certain place and let me down. To my right I saw a huge, well-lit cave. In it I saw the Lord Jesus seated on a boulder. He was surrounded by many children. I knew then that this was some kind of a training centre. Now, finally, after 33 years I know what this vision meant—God wants me to set up a training centre where the Lord Himself will come to teach, train and prepare His people (Micah 4:2).
Training Centre
Based on the end-time prophecy of Joel 2:28, training in the following areas will be regularly conducted for children, youth, senior citizens and ministers:
To train, prepare and raise up God's Army to wage warfare against Satan in the end-times (Rev 12:7-11). Details about Satan's vile strategies and cunning will be taught.
To teach, train and prepare God's Warriors to know who they are in the Lord, and their ways and laws for the end-times.
To teach, train and prepare Martyrs for the end-times (Rev 6:9-11).
To teach, train, prepare and mentor Prophets for the end-times. The last days Prophetic Company is going to be different – their spiritual experiences and the mighty works they will do are going to be awesome.
To teach, train and prepare Pastors to establish prophetic churches so that they will know how to bring in the last days' harvest into God's kingdom and how to nurture the believers to become mature sons of God.
Convention Centre – Seating 2,500
To regularly conduct Prophetic conventions and conferences which will be televised live on all of Angel TV's channels.
The Gospel of the Kingdom will be preached in this place and televised live to world as a witness to all nations, languages, and people groups (Matt 24:14).

"Build Me A Place…"
The Era of the Prophets has begun!
The Training Centre will be equipped with auditorium/theatre seating, individual classrooms and accommodations. It will be outfitted with the most advanced technology available.
We will bring in outstanding true prophets of God from around the world to teach, train and impart. This is not your ordinary kind of Bible School. This is a Training Centre of the Spirit kind where you will be brought into the glory presence of God to be taught by the saints and angels in glory.
During a recent 40-day corporate fast involving all of the Angel TV staff, many of them experienced being caught up to heaven. There, they were taught by the Lord, the Saints in glory and even by the Angels.
This was how the prophets Moses, Elijah and John the Baptist were taught.
The last days' prophetic generation will be taught, trained and mentored to work together with heaven for the end-times (Heb 11:40, Isa 54:13). The prophet Moses worked together with heaven when he was shown the pattern for the tabernacle there; the prophet Elijah worked together with Angels (1 Kg 19:5-7; 2 Kg 1:3,15); the Lord Jesus worked together with Saints when the prophets Moses and Elijah came and spoke with Him (Luke 9:30-31).
World-Class Broadcast Centre
A state-of-art future-ready 5 storey world-class broadcast centre – the heartbeat of Angel TV will include 4 studios, 24 video editing suites, 4 audio editing suites, a master satellite centre and will also include Jesus Ministries' administrative offices.
Come, Let Us Build A Legacy Together!
The architectural construction firm whom God has called to work with us on this project has estimated a budget of US$35 million. This amount includes the purchase of a 10-acre land, building construction costs and new broadcast equipment costs.
During our recently concluded 40-day fast, the Lord mandated me to begin ground-breaking works in this year—2016.
Will you come forward to have a part in this end-time prophetic work? By sowing into this project you will have a righteous inheritance in the Lord and prepare a generation that will prepare the way of the Lord in the end-times.
You can send your donations to our respective offices found on our website. Please indicate clearly in your M.O.s, Checks, Demand Drafts, or Online Donation, that this donation is specifically for the ATV Building Project. Please also write very clearly your complete residential address with your contact number so that we can send you a tax-exempt receipt (USA and Canada only) and your gift.
Come, Fulfil Your End-Time Destiny!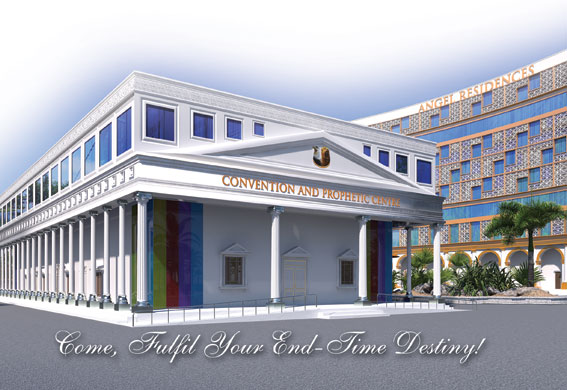 Thank you, friends, for your kind generosity. I lift up my head and hands to the Lord and pronounce this blessing upon you: "The Lord bless you and keep you; the Lord make His face shine upon you and be gracious to you; the Lord make His face turn towards you and give you peace."
The PDF Version of Our latest Newsletter